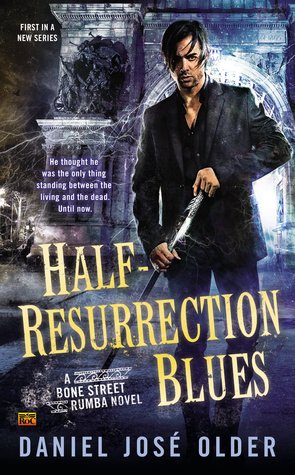 Half-Resurrection Blues (Bone Street Rumba #1)  Author: Daniel José Older
Narrated by: Daniel José Older
Length: 7hrs and 56mins
Genre: Urban Fantasy, Paranormal, Mystery, Thriller, Romance,  NA
Rating: 4.5 stars
Format: Unabridged Audiobook
Release Date: 1/06/15
Publisher: Audible Studios

Goodreads | B& N | Amazon | Audible
Synopsis:

"Because I'm an inbetweener—and the only one anyone knows of at that—the dead turn to me when something is askew between them and the living. Usually, it's something mundane like a suicide gone wrong or someone revived that shouldn'ta been."

Carlos Delacruz is one of the New York Council of the Dead's most unusual agents—an inbetweener, partially resurrected from a death he barely recalls suffering, after a life that's missing from his memory. He thinks he is one of a kind—until he encounters other entities walking the fine line between life and death.

One inbetweener is a sorcerer. He's summoned a horde of implike ngks capable of eliminating spirits, and they're spreading through the city like a plague. They've already taken out some of NYCOD's finest, leaving Carlos desperate to stop their master before he opens up the entrada to the Underworld—which would destroy the balance between the living and the dead.

But in uncovering this man's identity, Carlos confronts the truth of his own life—and death…
My Review:
Before I start to talk about this audiobook, a bit of context here, I love old movies and film noir rooted material. I'm kind of obsessed with it actually, but I had no idea that this book was going to border that kind of genre. I mean, yeah sure, it says Blues in the title, but that really could have meant anything.
If you're a old films lover, like myself (or not), I want you to think along the lines of Maltese Falcon ('41), Out Of The Past ('47), The Night of The Hunter ('55), DOA ('50) and for some reason I want to also say The Stranger ('46).
The dark, mysterious, urban, paranormal, and comedic blends in this book also brought to mind movies like Interview With A Vampire and Beverly Hills Cop (mainly the sequel) following the skeptic, slightly troubled, drifting, lost loner lead, Carlos Delacruz.
I don't want to harp on this book's similarities, simply explain the way the author has successfully created such a tantalizing bridge between the old and the new. Yes, this book resembles classic favorites, but it also offers a uniquely fresh and original paranormal concept of the dead and undead underworld lurking in the shadows of New York City.
My interest was instantly piqued the moment I was introduced to Carlos and his 'line of work' for the council. I loved discovering, as he did, his connection to a new mark, Travis, which ultimately lead to the discovery that after three years of believing he was alone in the dead/undead universe, Carlos was actually one of a few.
I liked that the story and the secret behind Carlos' death was revealed in pieces throughout the narrative and that the reader/listener discovered new information when Carlos did and that I did not feel left behind or patronized by the story of the plot.
I need to compare it to the physical book (though I do not believe it was just because I listened to the audiobook) but listening to Daniel José Older narrate his own story kind of had me thinking that I shouldn't listen to any other audiobook if it is not narrated by the writer. Like I said, I want to compare it to the physical book but I definitely think hearing Older read his own words real created a whole other ambiance.
I am still new to the audiobook scene, so I do not have a long list of favorite narrators or preferred narrators, but I do not think Older's story would have been given justice if he did not narrate as Carlos.
There is a poetic balance to this book and the smooth, steady vibrato of Older's sotto, almost laconic, voice truly brings the loose, paranormal bones of this story to life. The book offers a lot of exciting twists that kept me on my toes and I'm excited for read more from Daniel José Older. I've already added Midnight Taxi Tango (Bone Street Rumba #2) to my to-read pile for this year. 🙂
Thanks for reading. ^__^
Until next time,
Gia