Hiya, Guys:
Here are the books I completed for the month of February for the three book challenges I'm participating in this year.  Organized in the order I signed up for each challenge.
#2016TBRPile Challenge

This has been on by TBR pile for a while and you might recognize that this another book by last month's TBR author.
3volve
Genre: Realistic Fiction, Multicultural, Contemporary Romance, NA, Coming of age
Released: July 14th, 2015
Rating: 3/3.5 Stars
Goodreads OR buy 3volve  here: Amazon
Blurb:
From author Josefina Gutierrez, of "The Shadow of Loss", comes a new New-Adult contemporary love story.

I thought my life began when I graduated high school and moved far, far away—okay three hours away. But I was wrong. My life didn't start until it almost ended.

I'm Cristal Escobedo, twenty-two years old and a former wild child who favors tequila far too much. But that all changed when life happened, and I ended up being responsible for my younger brothers. To top it all off, I think I'm falling in love with my best friend—dammit.

This is my not-so-happy story of how I grew up and got my shit together. My story isn't filled with a bunch of pretty analogies or hyperboles. The people are real, the hurt is deep, and the love is complicated. People are flawed in the ways that matter; it's what makes us human.
For my 3volve review, click here.
#Rockmytbr Challenge

Is Everyone Hanging Out Without Me? (And Other Concerns)
By Mindy Kaling
Genre: Humor, Autobiography, Writing, Essays, Funny, Non-Fiction

Rating: 4 stars
Synopsis:

Mindy Kaling has lived many lives: the obedient child of immigrant professionals, a timid chubster afraid of her own bike, a Ben Affleck–impersonating Off-Broadway performer and playwright, and, finally, a comedy writer and actress prone to starting fights with her friends and coworkers with the sentence "Can I just say one last thing about this, and then I swear I'll shut up about it?"

Perhaps you want to know what Mindy thinks makes a great best friend (someone who will fill your prescription in the middle of the night), or what makes a great guy (one who is aware of all elderly people in any room at any time and acts accordingly), or what is the perfect amount of fame (so famous you can never get convicted of murder in a court of law), or how to maintain a trim figure (you will not find that information in these pages). If so, you've come to the right book, mostly!

In Is Everyone Hanging Out Without Me?, Mindy invites readers on a tour of her life and her unscientific observations on romance, friendship, and Hollywood, with several conveniently placed stopping points for you to run errands and make phone calls. Mindy Kaling really is just a Girl Next Door—not so much literally anywhere in the continental United States, but definitely if you live in India or Sri Lanka.
For my

Is Everyone Hanging Out Without Me? (And Other Concerns)

r

eview

post, click here.

#2016audiobook Challenge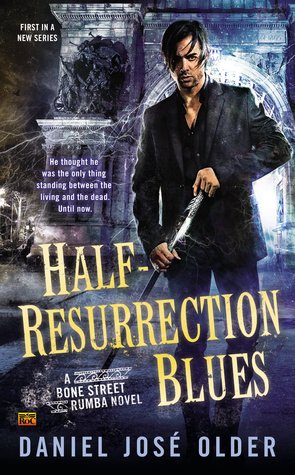 Half-Resurrection Blues (Bone Street Rumba #1)  Author: Daniel Jose Older
Narrated by: Daniel Jose Older
Length: 7hrs and 56mins
Genre: Urban Fantasy, Paranormal, Mystery, Thriller, Romance,  NA
Rating: 4.5 stars
Format: Unabridged Audiobook
Release Date: 1/06/15
Publisher: Audible Studios

Goodreads | B& N | Amazon | Audible
Synopsis:

"Because I'm an inbetweener—and the only one anyone knows of at that—the dead turn to me when something is askew between them and the living. Usually, it's something mundane like a suicide gone wrong or someone revived that shouldn'ta been."

Carlos Delacruz is one of the New York Council of the Dead's most unusual agents—an inbetweener, partially resurrected from a death he barely recalls suffering, after a life that's missing from his memory. He thinks he is one of a kind—until he encounters other entities walking the fine line between life and death.

One inbetweener is a sorcerer. He's summoned a horde of implike ngks capable of eliminating spirits, and they're spreading through the city like a plague. They've already taken out some of NYCOD's finest, leaving Carlos desperate to stop their master before he opens up the entrada to the Underworld—which would destroy the balance between the living and the dead.

But in uncovering this man's identity, Carlos confronts the truth of his own life—and death…
For my Half-Resurrection Blues (Bone Street Rumba #1)  audiobook review, click here.
BOOKS COMING UP:
March should be a slower month for me. I will admit that I did get distracted reading even more books than I planned to (on top of the blog tour books this month) which is why I had to post pone the planned Redeeming Love expected read for my #RockmyTBR last month and replace it with Mindy's book. To be honest, I'm really happy I did because it allowed me to end the month on a light and funny note.
For the month of March, I decided to  The Devil in the White City: Murder, Magic, and Madness at the Fair that Changed America by Eric Larson because I really liked what I remember reading from this book back when I first bought it and I just feel like getting back to the story.

For my #2016Audiobook challenge in February, I did end up listening to two audiobooks, but didn't realized why I marked the second book as 'to-listen to' as I was not familiar with the author until after I finished the book and realized I was meant to participate in a blog tour next month (in April) for it 😀 whoops! Well at least I'm a head of the game, right? Any-who, this month I choose to listen to The Girl On The Train by Paula Hawkins.
And for my #2016TBRpile challenge I picked Hard Love (Hacker #5) by Meredith Wild because the other two picks are kind of dark and I thought this would be a lighter read in the mix.
On top of these expected reads, I will be listening to Voyage Of The Defiance by S.E. Smith, and I'll be reading Broken Politics by Janae Keyes , books 1-3 of the Stone Legacy series by Theresa DaLayne,  and The Fold by Peter Clines. Knowing myself, I'm sure I'll squeeze in a few more this month, but I should stop because my body misses sleep XD.
As always, thanks so very  much for reading. I hope you liked reads this month and be sure to come back to check out what else I'll be reviewing 🙂
Until next time,
Gia.