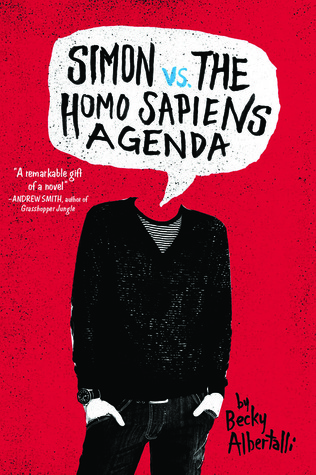 Simon Vs. The Homo Sapiens Agenda
By: Becky Albertalli
Genre: YA Fiction, GLBT, Realistic Fiction, MM Romance, Contemporary Fiction
Rating: 4.5 stars
Release: April 7th 2015
Synopsis:

Sixteen-year-old and not-so-openly gay Simon Spier prefers to save his drama for the school musical. But when an email falls into the wrong hands, his secret is at risk of being thrust into the spotlight. Now Simon is actually being blackmailed: if he doesn't play wingman for class clown Martin, his sexual identity will become everyone's business. Worse, the privacy of Blue, the pen name of the boy he's been emailing, will be compromised.

With some messy dynamics emerging in his once tight-knit group of friends, and his email correspondence with Blue growing more flirtatious every day, Simon's junior year has suddenly gotten all kinds of complicated. Now, change-averse Simon has to find a way to step out of his comfort zone before he's pushed out—without alienating his friends, compromising himself, or fumbling a shot at happiness with the most confusing, adorable guy he's never met.
Book Review
This was a great book to read and probably one of only a handful of first-person perspective books I immediately took a liking to. Though, if I'm being honest, as much as I enjoyed this book I whole-heartedly believe that I would have liked it even more if I read it back when I was in high school, as a part of me felt as though the plot was a bit dated.
However, I can't speak for the GLBT progressiveness of Atlanta, Georgia. This book has everything one could ever really want in a book, humor, the heart tugging butterflies of two people falling for each other, the expressionistic and everyday obstacles that is high school, and a grounding realistic and honest exploration of a character's self discovering identity—layer on top of the whole being blackmailed detail, of course.
Reading though that, it was clear that Simon was definitely a better person than I would have been through the entire (spoiler) reveal. If it were I, I would have stopped at nothing until Martin had been as humiliated and as exposed as Simon.
Sure, Simon eventually gave him a piece of his mind, but I think he went too easy on him. I am happy that the reader does not see Simon forgive Martin because he honestly didn't deserve it, regardless of his "apology letter."
I also want to take a moment to say how much I liked reading about not one—but two interracial relationships in this book with Simon and "Blue" (Spoiler) aka: Bram and Nick and Abby. Moreover, that the "popular/hot girl," was a character of color because—again—it held a certain likeness to experiences I've had growing up.
Not to belabor the point, but I find it crazy that I do not see enough of this in books seeing as how many friends and family have interracial relationships and marriages. Speaking of marriages, (actually not directly related to the book, but sort of relative) I loved that the author leaves the reader with the characters in this good/natural place.
Or as Simon puts it, with a "no ending." Too often, authors go off the rails with overrated "happy endings," with characters married, having kids, growing old together and dying etc., etc. I am perfectly happy with were we last see Simon, "Blue," and the rest of his family and it honestly could not have been a better way to "end" the book.
I found the identity of the mysterious, calm, surprisingly insightful, grammatically meticulous, and word-crafty "Blue," to be almost immediately obvious, but I did enjoy the build up to the reveal. I found the author's decision to present a mixture of support and bullying in this book quite refreshing. Once again, I cannot speak for Georgia, but I remember when a close friend of mind decided to trust me enough to make me the first person he told he was gay in high school almost ten years ago.
Our large and diverse school population already had a number of openly out students, so it was not something uncommon or unfamiliar—in fact, the entire school and student body was very positively progressive. However, my friend was a lot like Simon in the sense that he felt his family would be fine with it, he just wanted to keep it to himself for awhile and figure things out on his own before involving his family.
Moreover, while I also felt a personal connection to Simon, the logical and analytical side of me could not 100% grasps the reasoning behind his hesitation about revealing his sexual orientation to his close friends and family. I remember who was the first person I told I was bisexual. Better yet, I remember the day it all clicked in my head and how happy and content it made me feel to finally be able to make sense of the mass amount of emotions and thoughts that were constantly sprinting back and forth inside of my head, but, my sexual orientation is mine.
It belongs to me and like Martin's older brother in this book; I don't weight a lot of what happens in my life on that scale. It's a part of who I am, yes, but it's not the only thing that makes me who I am.
I also really loved reading about the closeness between Simon and his family because don't even know I'm bisexual. I'm not 100% that they care to know or not, but I've never been asked about it before. I would never try to dismiss or down play a person's experience with the way they have or decided to come out, this is just my own perspective.
Again, I wish this book (and many others like it) was published when I were still in high school, but I feel so grateful to have had the chance to experienced this great story. If you haven't guessed it, this book has been added to my re-read and highly recommended pile :-).
Thanks so much for reading guys,
Gia.