Half-Breed Queen (Skatia Narratives #1)
By: L.A. Hendricks
Genre: YA Fiction, Sci-fi, Action, Adventure
Rating: 4 stars
Release: March 2015
Synopsis:

Devastating tragedy puts 14-year-old high school freshman Marla Owens, on a fast-paced journey of survival, revival and coming of age. Driven by a force she can't begin to understand and a burning need to find out the truth, she heads toward her mother's home in North Dakota. She soon learns more about herself and her family than she could have ever imagined — her mother was royal heir to the powerful Skatian throne! And now the Skatian people need her to protect their world from those who wish to conquer it.

In a classic tale of good versus evil, set on Earth and beyond, a young girl fights to survive to become a young woman—and the reluctant queen of Skatia. Who can she trust? Will she be able to control her own immense abilities and justified anger to do what's right? One thing's for sure: Marla's not in Texas anymore!
Book Review
I really liked this book and I would recommend it to anyone who enjoys, fast-paced sci-fi stories with elements of action and humor. I'm sure I am not the only one who does this, but I usually write review notes, questions or marks in the margins of the books I read with a pencil on pages I would like to come back to or even reference.
And while I was perusing back through the book, I noticed that most of my notes for nearly half the book were either: "Wow!" "No way!" "That's so cool" or "OMG."
The author does a great job keeping the narrative moving while simultaneously keeping the reader and (Marla) in the dark about where the story was going to go next.
I was lucky enough to have received my copy of Half-Breed Queen from the author herself and with it, I was given a book post card with the main character on it next two what I thought was meant to be the creature that (spoiler alert) killed her parents.
Funny enough, I should it to my brother (for him to marvel over and be jealous, obviously) and he asked, "Oh, is this what she is?" I laughed and said, "No, don't be silly. She's human. That's most likely the thing that killed her parents."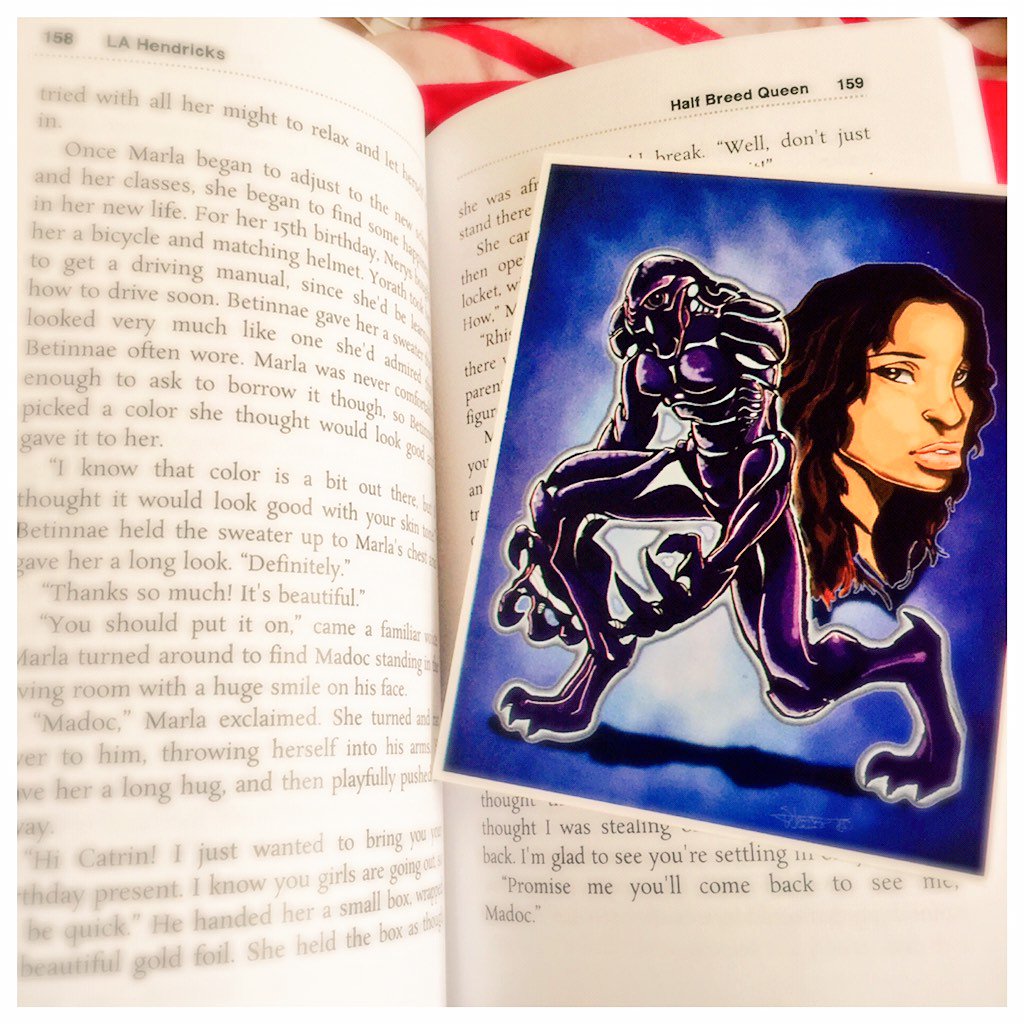 Guys, I was wrong and it only amped up my excitement for Marla and the rest of the story! Although I was a little meh about some of the decisions Marla made mid-way through, I had a hard time putting this book down 🙂
It was exciting, compels the reader to empathize with the young, Marla as she tries to cope with the huge loss of her parents, deal with the manifestation of her alien powers while grapping with this huge identity crisis of being half-human and half Skatia.
I would have loved it if this book were around when I was younger and I would almost recommend it as a middle school/pre-teens book if it weren't for strong graphic details of some of the violence and death scenes in this book. That and the fact that Marla's character is barley 15 years old, but can seemingly pass for a 19-20 year old.
This book was so much fun! I can not wait to read the second book, Amethyst Rising (Skatia Narratives #2).  I think this series is one you should definitely check out.

Thanks so much for reading.
Gia.