By: Marisa De Los Santos
Genre: Contemporary, General Fiction
Rating: 3.5 stars
Released: March 6, 2018
Synopsis: On the weekend of her wedding, Clare Hobbes meets an elderly woman named Edith Herron. During the course of a single conversation, Edith gives Clare the courage to do what she should have done months earlier: break off her engagement to her charming, yet overly possessive, fiancé. 
Three weeks later, Clare learns that Edith has died—and has given her another gift. Nestled in crepe myrtle and hydrangea and perched at the marshy edge of a bay in a small seaside town in Delaware, Blue Sky House now belongs to Clare. Though the former guest house has been empty for years, Clare feels a deep connection to Edith inside its walls, which are decorated with old photographs taken by Edith and her beloved husband, Joseph.
Exploring the house, Clare finds two mysterious ledgers hidden beneath the kitchen sink. Edith, it seems, was no ordinary woman—and Blue Sky House no ordinary place. With the help of her mother, Viviana, her surrogate mother, Cornelia Brown, and her former boyfriend and best friend, Dev Tremain, Clare begins to piece together the story of Blue Sky House—a decades-old mystery more complex and tangled than she could have imagined.
As she peels back the layers of Edith's life, Clare discovers a story of dark secrets, passionate love, heartbreaking sacrifice, and incredible courage. She also makes startling discoveries about herself: where she's come from, where she's going, and what—and who—she loves.Shifting between the 1950s and the present and told in the alternating voices of Edith and Clare, I'll Be Your Blue Sky is vintage Marisa de los Santos—an emotionally evocative novel that probes the deepest recesses of the human heart and illuminates the tender connections that bind our lives.
Book Review:



Without giving away too much, I'll Be Your Blue Sky, in my opinion, was not overly dramatic or heart pounding with suspense or anything. Nonetheless, the whole story felt lighthearted, kind of whimsical and slightly reminded me of a Hallmark version of Sleepless in Seattle with a stronger family backdrop (but only for the first chapter or so.)
Although this story centered on Clare and Edith's lives, while I was reading it the narrative felt universal to me. Clare's quest to really find herself, parallel to Edith's character who is so self-aware of who she is and the type of person she wasn't, really resonated with me as I was reading this book.
I think of myself as an Edith, a person assertive and owns her personality, but I'm also a type A person, so there were a lot of things about Clare that surprisingly clicked for me as well. She loves to read, she loves to make lists, she's a down-to-earth person, loyal to everyone in her life and she always tries to be fair.
This fairness regarding the circumstances of her ex-fiance, however, is where the book started to lose me.I mean it didn't take much of the first few chapters to realize that Clare was settling for her beau-to-be and not allowing herself the chance to follow her gut/heart like Edith's character.
With Edith, there were quite a few things immediately apparent about her character and even then I continued to adore her the more I got to know her. Like how clear how much love, conviction, and certainty that Edith had in her husband, Joseph, and their bond.
Despite this being such a powerful and strong aspect of her character foundation, I loved reading about Edith's life after Joseph's death and all of the remarkable things she later sacrificed and all of the people she was committing to help.
I also really liked the way the author allows Edith's bold, sharp, confidence and authenticity to remain a constant throughout the book even when she was at her lowest point.So, hands down, her side of the story felt more compelling than Clare's for me.
Some of the things that I didn't like so much about this book was that the pacing felt a bit slow throughout the book when it came to the mysterious trail that Clare was following left behind by Edith. But I would still categorize this book as a quick read when it comes to Clare and the emotional unraveling of her self-discovery journey.
Moving on to Clare's love-life, there was never a comparison between Zach and Dev's characters because they had such a palpable easiness to their connection and relationship that the painstakingly meaningless and frivolous circumstances for their split (in my opinion) was just water under the bridge.
And while on the topic of Dev and Clare, I thought their investment in the adventure of solving the mysteries of Edith's past and the secrets they find in her house was really enjoyable and fun to read because it helped to deepen their connection. And we, the readers got to watch their bond blossom even more.
Overall, I'll Be Your Blue Sky was a tender, subtle, engrossing and pleasant read for me.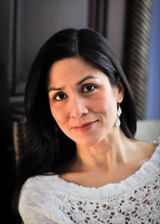 About The Author:

A New York Times bestselling author and award-winning poet with a PhD in literature and creative writing, Marisa de los Santos lives in Wilmington, Delaware, with her family.Connect with Marisa on Facebook and Twitter.
Tour Organized by:

Until the next post,

Gia.