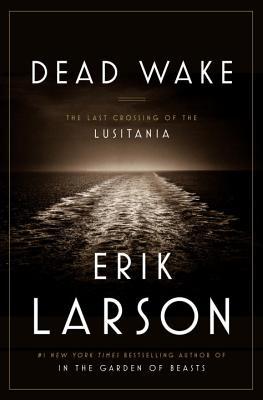 Dead Wake: The Last Crossing of The Lusitania 
By: Erik Larson
Genre: Non-Fiction, Historical Literature, WWI, War/Military
Rating: 4.5 stars
Release: March 10th 2015

Synopsis:

On May 1, 1915, with WWI entering its tenth month, a luxury ocean liner as richly appointed as an English country house sailed out of New York, bound for Liverpool, carrying a record number of children and infants. The passengers were surprisingly at ease, even though Germany had declared the seas around Britain to be a war zone. For months, German U-boats had brought terror to the North Atlantic. But the Lusitania was one of the era's great transatlantic "Greyhounds"—the fastest liner then in service—and her captain, William Thomas Turner, placed tremendous faith in the gentlemanly strictures of warfare that for a century had kept civilian ships safe from attack.

Germany, however, was determined to change the rules of the game, and Walther Schwieger, the captain of Unterseeboot-20, was happy to oblige. Meanwhile, an ultra-secret British intelligence unit tracked Schwieger's U-boat, but told no one. As U-20 and the Lusitania made their way toward Liverpool, an array of forces both grand and achingly small—hubris, a chance fog, a closely guarded secret, and more—all converged to produce one of the great disasters of history.

It is a story that many of us think we know but don't, and Erik Larson tells it thrillingly, switching between hunter and hunted while painting a larger portrait of America at the height of the Progressive Era. Full of glamour and suspense, Dead Wake brings to life a cast of evocative characters, from famed Boston bookseller Charles Lauriat to pioneering female architect Theodate Pope to President Woodrow Wilson, a man lost to grief, dreading the widening war but also captivated by the prospect of new love.

Gripping and important, Dead Wake captures the sheer drama and emotional power of a disaster whose intimate details and true meaning have long been obscured by history.
Book Review
It isn't a surprise that I enjoyed this book so much either. Erik Larson is a fantastic writer of non-fiction—I've already started looking into which of his other books I want to read next.
This book was rivetingly captivating and a bit too surreal to be a non-fiction book, but it is. Likewise, I think that is what makes these types of books and Larson's writing so enjoyable to read. The pacing in this book was fantastic; with each passage and chapter, the author brings the reader just close enough to a really high or low point in the timeline—with the character's aboard the Lusitania, or with the movements and actions of the U.S., British, or Germany leaders during the early and pivotal moments during WWI. Moreover, the ever-impending realization of just how destructive and damning a U-boat can be.
Even though going into this book I was vaguely aware of the events that brought down the Lusitania, I was not mentally prepared learn about the secrets Room 40 held in Britain or of Germany's willingness to sink any and every ship that came into their path—or boat that they stalked, in most cases.
I'm not sure if it's possible, but I feel as though this book could be the epitome of the phrase, "The calm before the storm." This was great to read, but it left me with a chilling and perplexed feeling regarding the passengers who lost their lives on the Lusitania and the quick shuffle to place blame on the captain, Capt. Turner, after it happened. This book's plot and overall synopsis is straightforward and each reader can expect to know the exact outcome of this novel.
Besides the feeling of having gained a wealth of knowledge and insight from this book by the end, I hope others also take from it the message on communication and how the lack of proper, constant, and clear communication with anything could lead to some pretty terrible consequences.
Thanks so much for reading this post, guys.
Until the next one,
Gia.